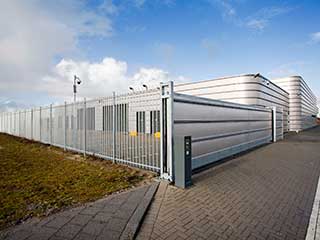 Not only does a malfunctioning gate compromise your security, but it can also pose a safety risk. Our team has more than a decade of experience offering fast, high-quality repairs for all types of gate system, so when something goes wrong you can rest assured that our experts will be able to provide a solution. Our company offers same-day emergency repairs, as well as appointments 7 days a week.
Fixing Different Types of Systems
Not all automatic gates work the same way - in fact, many work in very different ways. This poses a challenge, since there are a huge number of different issues that can be encountered, and sometimes it can be difficult to ascertain what's wrong. Our technicians have the know-how and the skills to troubleshoot the system, find the root cause of the issue and apply the best solution for it, whether it's a wrought iron swing gate hinges that require welding or the dented V-groove tracks of a sliding-style system.
Repairs For Different Gate Materials
Apart from the difference in the way they work, automatic gates can also vary in the materials they're made of. Our technicians can handle everything from warped and rotten wooden posts to dented aluminum sheets or rusted wrought ironworks. Each material has its own potential faults, but you can rest assured that our experts know exactly how to deal with all of them.
Addressing Intercom Problems
A gate which doesn't open when you need it to is simply a wall. A system whose intercom begins malfunctioning can turn even a fully-functional gate into a useless piece of machinery, and will make it hard for employees and customers to get in and out. Therefore, it's essential to have them repaired as soon as possible if they develop a problem. Our technicians travel with a full range of components, enabling us to provide on-the-spot replacements for damaged and broken parts, and to reconnect or replace torn wires and fried circuitry.
Give Us a Call
Our team here at Gate Repair Glendale is ready to fix whatever you need us to fix. As soon as you discover something wrong with your business's automatic gate, get in touch with us to have our technicians quickly solve the problem.