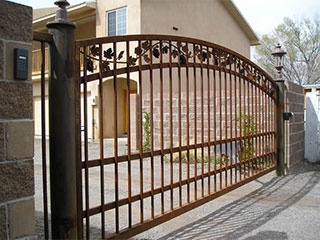 Homeowners around the country know how important it is to have a strong, secure driveway gate in order to ensure their property stays protected. However, the strength of this system isn't the only concern; this system is the first thing a visitor will see, and as such it's important to choose a design that not only offers you protection, but looks good as well.
The Benefits Of This Material

Steel gates make an excellent choice for any home or business, combining excellent strength with an affordable price. Steel is also a great option because it can be very versatile, and the material can be fashioned into a wide range of different designs options, while still providing its trademarked durability. If you don't mind dealing with some minor maintenance in order to avoid rust, then this material is going to be an excellent choice.

Modern Gate Designs

Your driveway gate should match your home and its surroundings, and modern designs are perfect for doing this. Combining elegant geometrical designs with straight simplicity, these designs are a masterclass in understatement. You can also add a few flourishes such as curves and cut-prints of stars or other shapes, in order to make your gate look more unique.

Classic and Vintage Gates

Steel doesn't have to look ultra-modern. In fact, with the application of black paint and gold trimming, any steel gate can be made to look like a stylish and classically designed model. With a few specific design choices, you can achieve the look of elegant old-world charm without investing in a heavy and expensive wrought iron frame.

Ornate Monogrammed Additions

For the ultimate in personal touches, consider adding a monogram to your property's gate. This is a subtle yet powerful way to underline how much care and attention you've put into your property, as well as making your mark on visitors as they arrive. Your family initials, full name, or any other word or phrase can be crafted into the metal to create a unique design that guests and/or customers won't find anywhere else.

Imagination Is The Limit

While there are traditional styles that many home and business owners choose to go with when having a new driveway gate installed, the options are as varied as you'd like them to be. If you're particularly creative you can have special color and painting designs on your wooden pickets, or all sorts of flourishes of ornamentation added to the frame or the bars. The sky's the limit, as they say. Get in touch with Gate Repair Glendale to learn more about the options available to you.